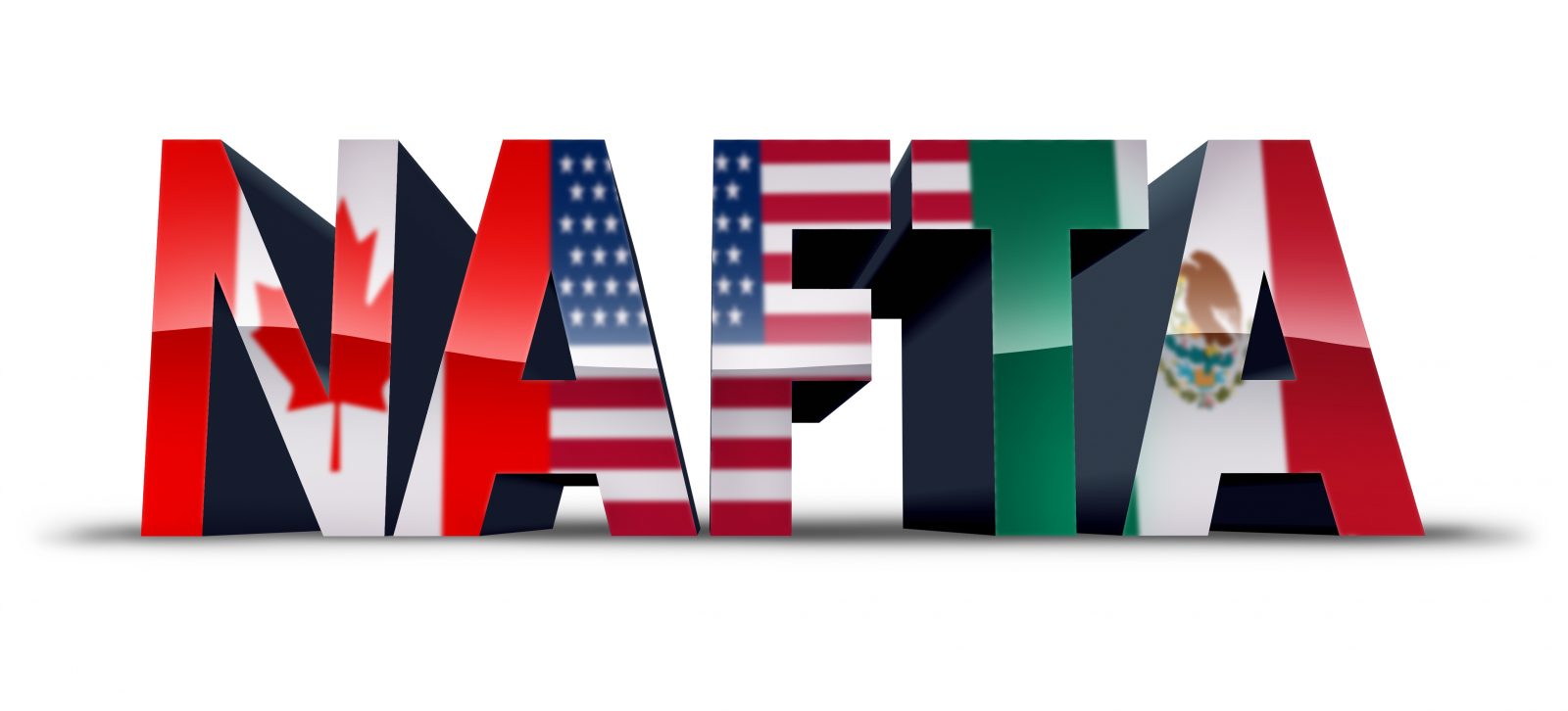 Goldman Warns of U.S. NAFTA Exit as Negotiators Seek Small Wins
Investors remain on alert over the threat of NAFTA talks failing even as negotiators meet this week in Washington and seek minor victories on less contentious issues.
The latest meetings to revamp the North American Free Trade Agreement will run through Friday, largely out of the spotlight. Cabinet-level officials won't attend for the second time since negotiations began in August, and the Trump administration is preoccupied with efforts to push through tax cuts by year-end and avoid a government shutdown.
The distractions in Washington haven't eased pressure on President Donald Trump to preserve the trade deal, which governs more than $1 trillion in annual commerce. Senators who support NAFTA warned the president last week of the economic risks of following through on his threat of withdrawal. Goldman Sachs Group Inc. said it expects Trump will ultimately announce his intention to exit from the accord and that fresh tensions will probably emerge at the next full negotiating round in January.
"While we expect the rising odds of tax reform to put less pressure on the trade agenda, we do not expect passage of tax reform will raise the odds of a successful NAFTA renegotiation," Goldman Sachs said in a note to clients. "And so a withdrawal announcement looks more likely than not, even if tax reform is enacted soon."
Currency Markets
The move would cause a disruption in currency markets, driving down the peso against the dollar, even if it doesn't immediately cut back trade, it said. Bouts of weakness in the peso this year have reflected uncertainty over NAFTA's future.
Trump is seeking all the support he can get in the Senate and House to reconcile tax bills and score his first major legislative victory, meaning he's wooing lawmakers who've begun to speak out in favor of keeping NAFTA. The last round of NAFTA talks ended with U.S. Trade Representative Robert Lighthizer warning that Mexico and Canada need to make concessions, as the only acceptable deal will shift trade flows in the U.S.'s favor.
Many of the U.S. proposals "are so clearly non-starters for our NAFTA partners that it doesn't seem like they're moving forward that much," said Douglas Holtz-Eakin, president of the American Action Forum and a former chief economist of the Council of Economic Advisers under George W. Bush. Research published by the forum this month found a NAFTA withdrawal would jeopardize 14 million U.S. jobs and cost consumers at least $7 billion.
Divisive Subjects
Observers expect the Washington round to yield progress on issues such as telecommunications, while making no or slower advances on divisive subjects like U.S. proposals on increasing the local content requirements for vehicles, adding a five-year termination clause and dismantling Canada's protected dairy sector.
The negotiators will spend among the most time discussing rules of origin, which govern content requirements for goods to qualify for duty-free benefits. They'll also hold sessions on digital trade and state-owned enterprises, among other topics, according to an agenda of the talks. Thorny issues like agriculture and dispute settlement don't appear on the schedule.
The clock is running down to secure a deal by March, to avoid running into the campaign for Mexico's presidential election in July and the potential lapse of the U.S. administration's fast-track negotiating authority. Any nation can announce its intent to withdraw from the accord with six months' notice, although the U.S. Congress has authority over aspects of tariffs and trade.
'Toxic Issues'
"We're going to look at Nafta very seriously," Trump told reporters on Dec. 5. "Not easy to have an election coming up. We'll see how that plays."
Canadian Prime Minister Justin Trudeau struck a mostly upbeat tone last week when asked about the NAFTA talks during a trip to China, where Canada failed to reach a deal to launch bilateral negotiations. If NAFTA negotiations end without a deal, Canada would be receptive to considering one-on-one talks with the U.S. on trade, said Trudeau.
Also last week, Canada's chief negotiator Steve Verheul described two tracks, one with progress being made and another where Canada and Mexico are rejecting "extreme" U.S. proposals. "We will not accept U.S. proposals that would fundamentally weaken the benefits of NAFTA for Canada and undermine the competitiveness of the North American market," Verheul said.
The Mexican peso may drop to at least 20 pesos per U.S. dollar if negotiations deteriorate, while the Canadian dollar may slump to C$1.35, Goldman said. "The fact remains that the sides are far apart on issues where we struggle to see an obvious middle ground."