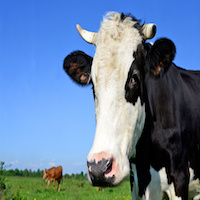 October Calves, Feeders 3% to 5% Higher
Feeder cattle and calves continued their fall rally during October, gaining 3% to 5% at auctions. The gains followed similar improvement in September, leaving prices at the beginning of November nearly 9% higher for both calves and yearlings than the August averages.
Calf prices in the Drovers auction summary averaged $174.65 per cwt at the end of October, up $9.69, while yearlings averaged $150.80, up $6.14 per cwt.
Beef's economic indicators made an abrupt turnaround during October due to higher cattle prices and strong beef sales.
October's analysis found just two arrows pointing lower, while September saw four arrows down. While October's overall arrow points up, the worry over increasing supplies of beef and all proteins remains.
Production costs are lower still, encouraging the feeding and production of livestock.
Packers are earning solid profits, which suggests they'll remain fairly aggressive bidders. Competitive meats remain a concern with increases in pork and poultry production. Overall red meat and poultry production will weigh on markets throughout 2018. U.S. beef exports remain strong, accounting for $325 of the value of a fed steer.